2014 DuPont™ FarmCare® Connect Grower Program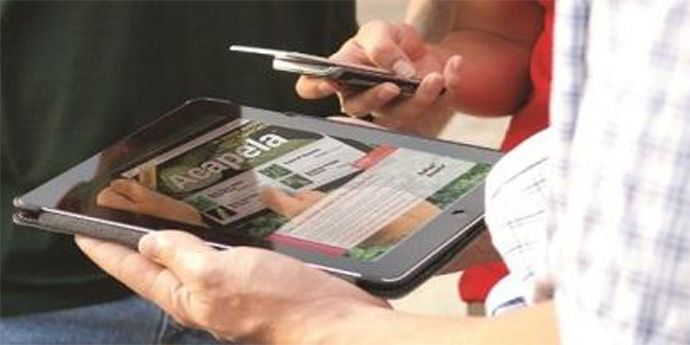 The DuPont™ FarmCare® Connect Grower Program is back for 2014 and it is even better than ever. Growers can save big on select DuPont crop protection products when they buy D-SERIES canola hybrids or Pioneer® brand seed, DuPont™ Vertisan® fungicide or DuPont™ Acapela™ fungicide.

This year, we've made it easier than ever to farm well and save big.
Here's how it works.


There's no need to enrol for the FarmCare® Connect Grower Program in 2014.
Purchase any of these qualifier products and you're automatically enrolled:
· Purchase 140 acres of D-SERIES or Pioneer® brand canola hybrids
· 140 acres of Pioneer® brand corn, soybean or sunflower
OR
· A minimum of 8 jugs of DuPont™ Vertisan® or 4 jugs of DuPont™ Acapela™ fungicides.
Maximize your rebate in the grower program by purchasing the following DuPont crop protection products between September 1, 2013 and August 31, 2014.
Acapela™ fungicide Accent® herbicide Ally® herbicide

Assure® II herbicide Barricade® II herbicide Battalion® herbicide

Coragen® insecticide Curzate® fungicide Express® LW herbicide

Express® PRO herbicide Express® SG herbicide Harmony® brand herbicides

Kocide® fungicide Lumiderm™ insecticide seed treatment Muster® herbicide

Pinnacle® SG herbicide PrecisionPac® herbicides ** Prism® SG herbicide

Refine® M herbicide Refine® SG herbicide Titus™ PRO herbicide

Triton® K herbicide Ultim® herbicide Velpar® herbicide

Vertisan® fungicide
** Including, DB-858, DB-1254, DB-6654, DB-8454, DB-10550, NC-0050, NC00439, PP-23235, PP-2525, PP-31155, PP-3317, Refine® SG & Triton® C
New! For each bag of Lumiderm™ treated seed purchased, a $75 bonus will be added to your purchase value to help build rebate levels.

The more D-SERIES canola hybrids, Pioneer® brand seed and DuPont crop protection products you purchase, the greater your year-end grower program rebate will be.
It adds up fast!

Members earn rebates on their purchases of select DuPont crop protection products, which include high performing products such as:

Assure® II Barricade® II Coragen® Express® PrecisionPac®

Purchase Builder Products between September 1, 2012 and August 31, 2013 to accelerate your rebate levels. Builder products include:(See the Terms and Conditions for a complete list of products eligible for rebates)

Acapela™ Assure® II Express® PRO Express® SG

PrecisionPac® NC-0050 PrecisionPac® NC-00439 PrecisionPac® DB-858 Triton® K

Vertisan®

Once again, there's no need to sign up for FarmCare® Connect Grower Program in 2014. The moment you make your minimum purchases of D-SERIES canola hybrids, Pioneer® brand seed or Vertisan® or Acapela™ fungicides, you're in. You'll then receive an additional $1.00 per acre rebate off cereal broadleaf brands on matching acres.
Questions about the FarmCare® Connect Grower Program?

Contact your local DuPont Crop Protection sales professional, Pioneer Hi-Bred sales representative, participating retailer or call 1-800-667-3925.
As with all crop protection products, read and follow label instructions carefully. ®, TM, SM Trademarks and service marks licensed to Pioneer Hi-Bred Limited. Pioneer® brand products are provided subject to the terms and conditions of purchase which are part of the labeling and purchase documents. Member of CropLife Canada. All other products are trademarks of their respective companies.