Grains and Oilseeds '13. Will Cereals Gain at Canola's Expense?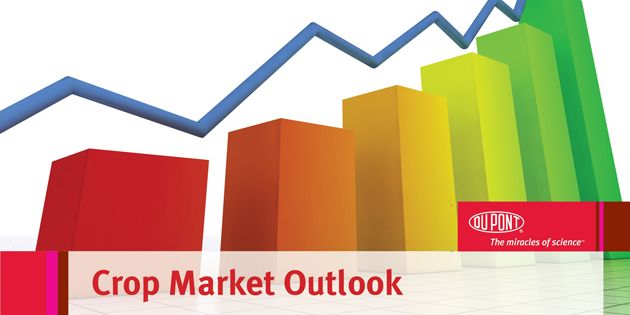 When the U.S. Corn Belt has serious problems, watch for two certain outcomes in Western Canada's grains and oilseeds market, according to CWB Market Analyst Bruce Burnett. First, virtually every crop grown on the Prairies will be affected by U.S.-driven factors. Second, the impact could take years to sort out.
"In terms of crop production on the Prairies this year, it's up from last year overall," says Burnett. "This is especially so for cereal crops, and it's because of the increased acreage that went back into production after flooding in 2011 in some areas. The yields have been more or less average or a bit above, which gives us a somewhat larger crop than last year.
"Canola had lower average yields than the previous year, due to a variety of environmental, pest and disease issues."
In the grand scheme of things, yields and production in Western Canada amount to a footnote in comparison to the biggest story of 2012. That's the devastating drought in the U.S. Midwest – the worst, by some accounts, in 50 years – that slashed U.S crop production and boosted prices for grains and oilseeds globally. Click here for more information on the drought and conditions in the U.S. Midwest.
The ongoing implication of this event, in Burnett's view, is that prairie farmers should like the market prices for grains and oilseeds next year. He sees no clear winners and losers in planted acres for 2013, compared to 2012, other than in soybeans. Burnett believes soybean acres, particularly in Manitoba, will continue to march forward.
"When you have a shortfall in the world's largest crop -- the U.S. corn crop -- prices will provide incentives for increased production, on a global basis," says Burnett. "It will take a long time to recover that decrease in production. So there is good opportunity in this upswing year and farmers will be looking at a pretty favorable outlook."
Analyst sees doubts around canola, new regard for wheat
What should you plant in 2013? For many, it's a matter of working out the best agronomic and economic balance among grains and oilseeds, as well as pulse crops. Most years, the decision has started here: plant as much canola as possible.
Brenda Tjaden Lepp, co-owner of grain marketing advisors FarmLink Marketing Solutions in Winnipeg, believes that after a frustrating 2012, canola's accustomed position as lead dog in the rotation might not be a given next year.
"Canola this year started off to be such a great crop," says Tjaden Lepp, whose firm works with growers across the Prairies. "It looked like it had enormous yield potential, but then we ran into a number of problems."
First, she says, some areas saw no moisture later in the summer. Then, higher-than-normal heat whacked canola crops, followed by worse-than-normal disease pressure. At harvest, in some areas, strong winds tore into swathed canola and reduced yields further.
There's not much you can do to get more moisture, less heat and less wind. In Tjaden Lepp's view, however, the disease-related risks of growing canola will be under increased scrutiny between now and planting time.
"Many farmers have been pushing rotations and just turn a blind eye," she says. "This year they learned the hard way. You have limits of canola rotation and they are real."
Spring wheat, with strong current prices and less disease-susceptibility, could be the beneficiary of canola's troubles. Among the pulses, Tjaden Lepp sees a generally favorable outlook.
"Peas and dry beans both look attractive right now," she says. "There's good opportunity in lentils, but we still have about 18 months of strong supply to get through. Even so, lentils at 20 cents per pound still pencil out pretty well for growers."
For program details on the DuPont™ FarmCare® Connect Grower Program, visit the website.