DuPont Crop Solutions Product Guide for 2016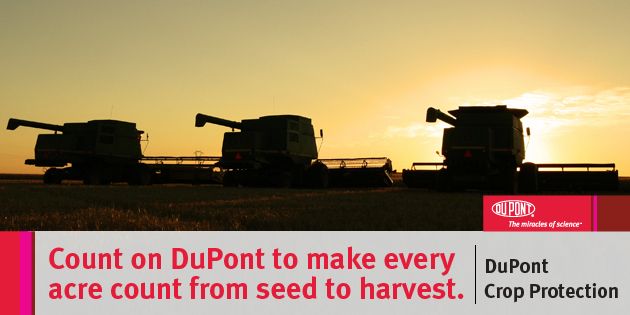 At DuPont Crop Protection, we understand that the search for better agronomic tools never ends. We regularly introduce new products, each many years in the making, to keep you ahead of your most pressing agronomic challenges and help you realize your crops' yield and quality potential.
Our 2016 Crop Solutions Product Guide features information on current product offerings, along with products you've known and trusted for years. We're also excited to share with you some of our new and exciting innovations in herbicides, insecticides and seed treatments.
With one of the best R&D pipeline's in the industry, DuPont is constantly striving to provide innovative chemistries and technologies that will become the products and practices of tomorrow.
DuPont™ Lumiderm™ insecticide seed treatment has continued its strong rate of adoption. It's the first seed treatment product that controls both cutworms and flea beetles in canola.
DuPont™ Coragen® insecticide is now registered for cereals for the control of grasshoppers, in addition to canola, corn, sunflowers, potatoes and vegetables.
DuPont™ Acapela® fungicide is now registered in canola for control of sclerotinia. It's already the stand-by solution for many crops including cereals, corn, soybeans and pulse crops. With its powerful action and best-in-class movement properties, Acapela® is setting a new standard in disease control by helping to deliver healthier crops and higher yield potential.
New for the Eastern Canadian corn market is DuPont™ Destra™, a new post-emergent corn herbicide that offers growers a one-pass solution in convenient and easy to handle packaging.
DuPont™ Exirel™ is a new insecticide for fruit and vegetable growers to protect their high-value crops from a cross-spectrum of chewing and sucking pests.
As the world seeks new ways to supply food and fuel for a growing planet, Canadian farmers see tremendous opportunity as well as significant challenges.
DuPont is ready to help the industry capture the opportunities and meet the challenges, through innovative technology, customized solutions and in-field agronomic advice.
The DuPont Oval Logo, DuPont™, The miracles of science™, and Solumax® are registered trademarks or trademarks of E. I. du Pont de Nemours and Company. E. I. du Pont Canada Company is a licensee. All other products are trademarks of their respective companies. Member of CropLife Canada. © Copyright 2013 E. I. du Pont Canada Company. All rights reserved.
The information provided on this website is for reference only. Always refer to the product labels for complete details and directions for use.