Today's Canola Disease Management Demands a More Diverse Toolkit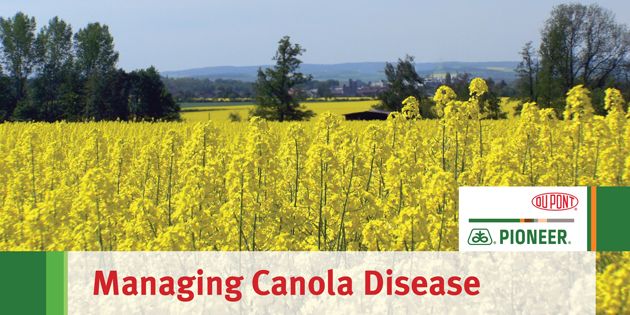 New-generation fungicides have opened up a promising new front in the ongoing battle with canola disease. Now more than ever, growers have effective tools to manage sclerotinia and other diseases through the seed drill and sprayer.
When it comes to a proven yield-killer like sclerotinia, growers will tell you they take no chances. They want to plant a disease-resistant canola hybrid and have the option to apply a fungicide in-crop if conditions warrant. 2012 was a year where most areas of the prairies needed this two-pronged approach for disease control.
Hamiota, Man. producer Blair Charlton has grown several hybrids with Pioneer Protector® traits from DuPont Pioneer, including Pioneer® brand 45S52 and 46S53. Sclerotinia is his worst canola disease, and 45S52 has become his go-to hybrid for sclerotinia resistance.
"For me, growing a sclerotinia-resistant hybrid gives me peace of mind," says Charlton. "The spray season is very short and timing is everything. If it is a bad disease year, I might lose a little if I can't spray, but it won't be a total disaster when I use a resistant hybrid."
Charlton is in an area where sclerotinia can be an annual challenge. With 45S52, he gets a canola hybrid with moderate sclerotinia resistance. While the hybrid isn't completely resistant to sclerotinia, it's a clear step up from susceptible hybrids. In past years, under moderate sclerotinia pressure, Charlton has applied fungicide to his non-resistant canola hybrids but not 45S52.
According to Kristin Hacault, DuPont Pioneer Agronomy Research Manager in Calgary, the use of a sclerotinia-resistant canola hybrid won't eliminate sclerotinia disease infection or the need for a fungicide under high disease pressure.
"We've found that the sclerotinia resistance trait helps prevent the disease from entering the plant, and if it does enter the plant, there is less movement of the disease within the plant," she says. "So disease development isn't as great and plant growth and yield are less affected."
For 2013, there are even more Pioneer Protector hybrid options available such as Pioneer® brand D3154S or 45S54. These two hybrids offer a strong performance package, plus they are rated resistant to blackleg and fusarium wilt. Contact your local participating seed retailer or visit the D-Series website for more information on Pioneer® brand D3154S. You can also contact your local Pioneer Hi-Bred sales representative or visit the DuPont Pioneer website to learn more about Pioneer® brand 45S54.
On guard against clubroot
With a canola disease like sclerotinia, growers have access to both gene-level resistance and in-crop disease management with a fungicide. When it comes to clubroot, no fungicide is yet registered for control of this disease in canola. Thus, along with proper rotations, careful equipment hygiene and other practices, clubroot-resistant hybrids play an all-important role in keeping clubroot at bay.
DuPont Pioneer offers canola hybrids such as Pioneer® brand D3152 and 45H29. These hybrids provide excellent disease resistance and strong potential for good yield and standability.
In Central Alberta, where clubroot is firmly established, Johannes Heupel at Stony Plain has switched over to 45H29. He hasn't suffered yield losses to clubroot, but doesn't want to take a chance.
Two years ago he compared 45H29 to an InVigor hybrid. While 45H29 yielded a few bushels less, he says 45H29 is now his canola of choice.
If the County finds clubroot on your land, I wouldn't be able to grow canola for another four years," explains Heupel. "If I can only grow canola every five years instead of every three or four years, that lower yield is insignificant."
Kristin Hacault notes that 45H29 is rated highly resistant to clubroot. It is resistant to clubroot races 2,3,5,6 and 8, with race 3 being the predominant race in Central Alberta. She says the hybrid isn't totally immune to clubroot and small galls can develop under severe pressure, but even under these high pressures, less than 10 per cent of the plants are affected.
Growers look forward to the addition of a clubroot-capable fungicide in the future, giving them a crop protection tool that's long been available in sclerotinia. In the meantime, as Hacault sees it, rotational caution with a genetic defense can play a valuable role in preventing and managing clubroot.
"In clubroot-affected areas, we recommend a one-in-four year crop rotation with 45H29 to help prevent the genetic resistance from breaking down," says Hacault. "In other areas, if clubroot isn't present, then there isn't the same concern about resistance breakdown."
For program details on the DuPont™ FarmCare® Connect Grower Program, visit the website.

The information provided on this website is for reference only. Always refer to the product labels for complete details and directions for use.